So before I get the stink eye for having this post follow up my 'I am going offline post' let me start off by saying that this post has been written on Wednesday with publishing scheduled for today.
Ok. Now that the little disclosure is out of the way, let's begin! I really love doing Friday Favorites from Epla. One of the things I love most is going thorough the many, many beautiful goodies for sale and being so incredibly inspired, both by the wonderful handmade wares as well as the fabulous vintage/antique finds. This week is no different! Decidedly floral inspired, still totally feeling the Spring vibes! As the days get longer and the temperature climbs, I get so much more excited about the coming sun!
Anyway, enough of the gibber gabber, here are this weeks flower power picks: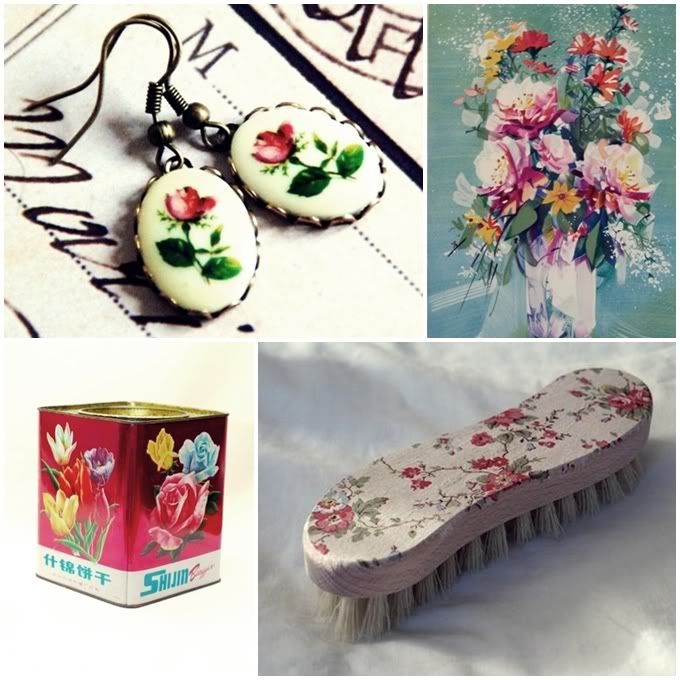 [1.]
Gorgeous hand made Rose earrings
[2.]
Love this Claude Mars Lithograph
[3.]
Vintage Chinese Tea Box
[4.]
Scrubbin' in style with the brush
[1.]
Pretty blue floral toiletry bag
[2.]
Origami birds, can be made into a mobile
[3.]
Beautiful Vintage 'Summer dream' dress
[4.]
Retro floral kitchen boxes

Hope you all have a fantastic weekend!