I try hard not to be one of those bloggers that posts endless rants about life, love, fashion whatever. I don't see the point in polluting the internet anymore than it already is. And yet, here I am, tying furiously to keep up with my brain just to get this out!


Let me start off by saying that I very seldom read Norwegian fashion magazines, not because I don't like them, but because my Norwegian is not yet good enough to make it through entire articles, and let's face it, they are pretty expensive if you're only getting them to look at the pictures. Never the less, the other day, my boyfriend came home with a copy of Massiv. Norway's biggest free lifestyle magazine, according to their website.

I've only read Massiv once or twice before, so I'm really no expert on the quality of their articles/spreads etc. HOWEVER, I am going to comment on this month's issue as it's grating my cheese.

Firstly, you have pop star Mariann Thomassen on the cover, she looks sassy and cute, but wtf is up with the salmon? Mariann is so pretty & she is quite the adventurous fashionista for sure. But was it really that difficult to come up with an original spread? Did we have to go for a flat out copy of the Lady Gaga Meat dress with a slight Norwegian twist, the twist being that there was no meat but rather salmon? I do get the vibe they are going for here, but it just screams of unoriginality.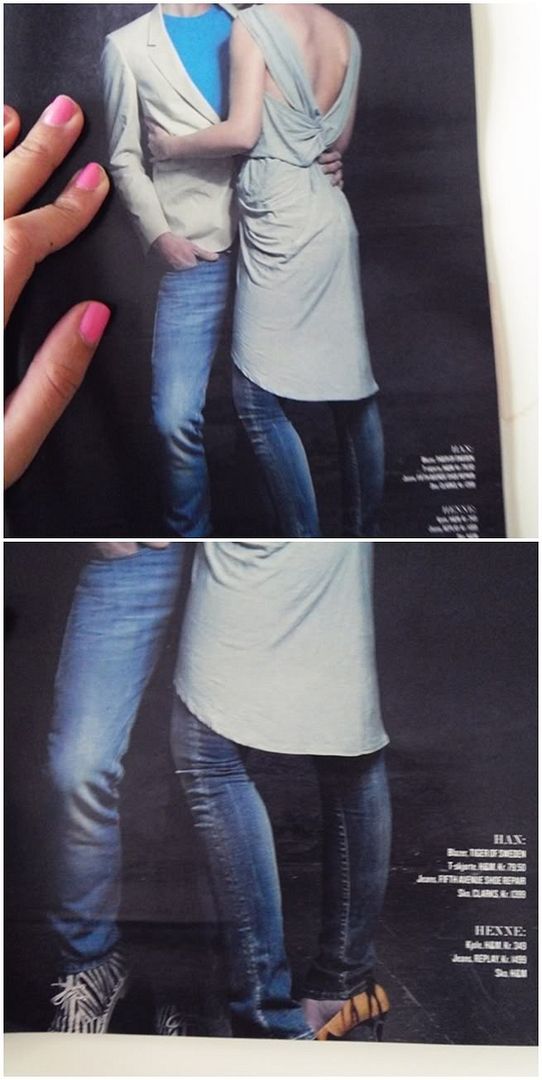 The second thing I thought was really sad was their 'Forever Denim' fashion editorial. Again, I totally understand what they are aiming for, combining denim with different fabrics, textures and cuts to create various looks that are both formal and casual. But the combinations they have chosen are simply bizarre. The one that stood out most for me was a really pretty pale teal color dress from H&M paired with Replay skinny jeans and tiger print heels. Individually all of these pieces are gorgeous, collectively, as a combination of looks, they looked rushed and poorly thought out.

I feel really nervous about publishing this post, mostly because I am uncertain of the response. If any. Basically, my only point is, it's not difficult to be original, to come up with fresh original content, to go through the entire creative process when conceptualizing editorials.

These sort of spreads are fine, we are all inspired by what we see around us, I just think its key to use that inspiration as a catalyst for your own creativity.

End of rant.