Hallelujah! It's Friday!
This Friday I totally made up for my slightly relaxed approach to last week's fav's [last week was a busy one for me]. I went through probably 100 pages of
Epla
to get to this weeks theme, which is handmade knits by the way.
One of the things I love about
Epla
is how it gives a voice to all the crafters in Norway, from those going in for the long haul to the hobby crafters working in their spare time. Of all the different categories on Epla, I am most impressed by the knits.
So here are my favorites for this Friday, all knitted, all utterly fabulous.
Clockwise from the left:
[1.]
Gosh! What's not to love? A monkey coffee cup cosy... Hello?
! Sign me up for 2!
Love this!
[2.]
Again with the cuteness! This little guy is an apple holder.
[3.]
Beautiful knitted dress for a little girl. The ribbon detail is adorable.
[4.]
I have featured some tech accessories like this before, but the colors on this iphone/ipod/cell/camera holder were just too gorgeous not to show you!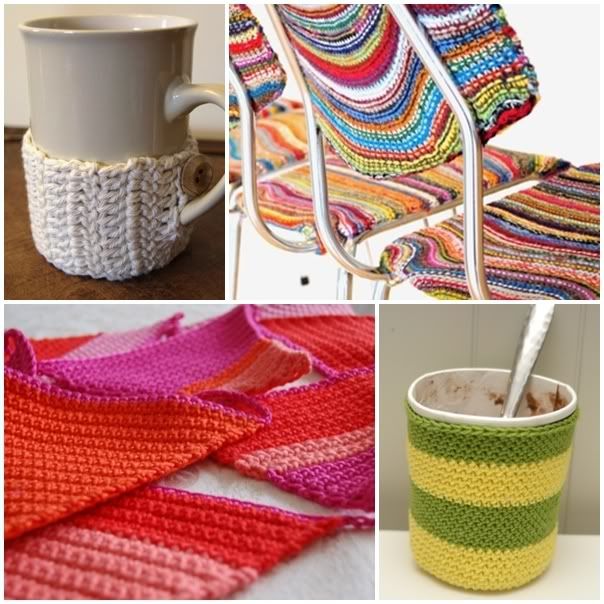 Clockwise from the left:
[1.]
Cup with a cosy. I just have to say it, these are probably the most perfect cabin cups I have ever seen.
[2.]
I ADORE these chairs. Oh my gosh. To me they are perfect.
[3.]
Another cosy, I know, but this one fits into my gluttonous PMS regime, ladies, I give you the ice cream cosy. No more frozen fingers while inhaling entire tubs on Ben & Jerry's
[4.]
Garlands have really made a come back in the party deco scene, and these hand knitted ones are definitely a cut above the rest. Love the colors!
So that's it for my knitted Friday Fav's. Apologies if it was too cosy. Hahaha. Punny. I make horrible jokes.
Have a glorious Friday!